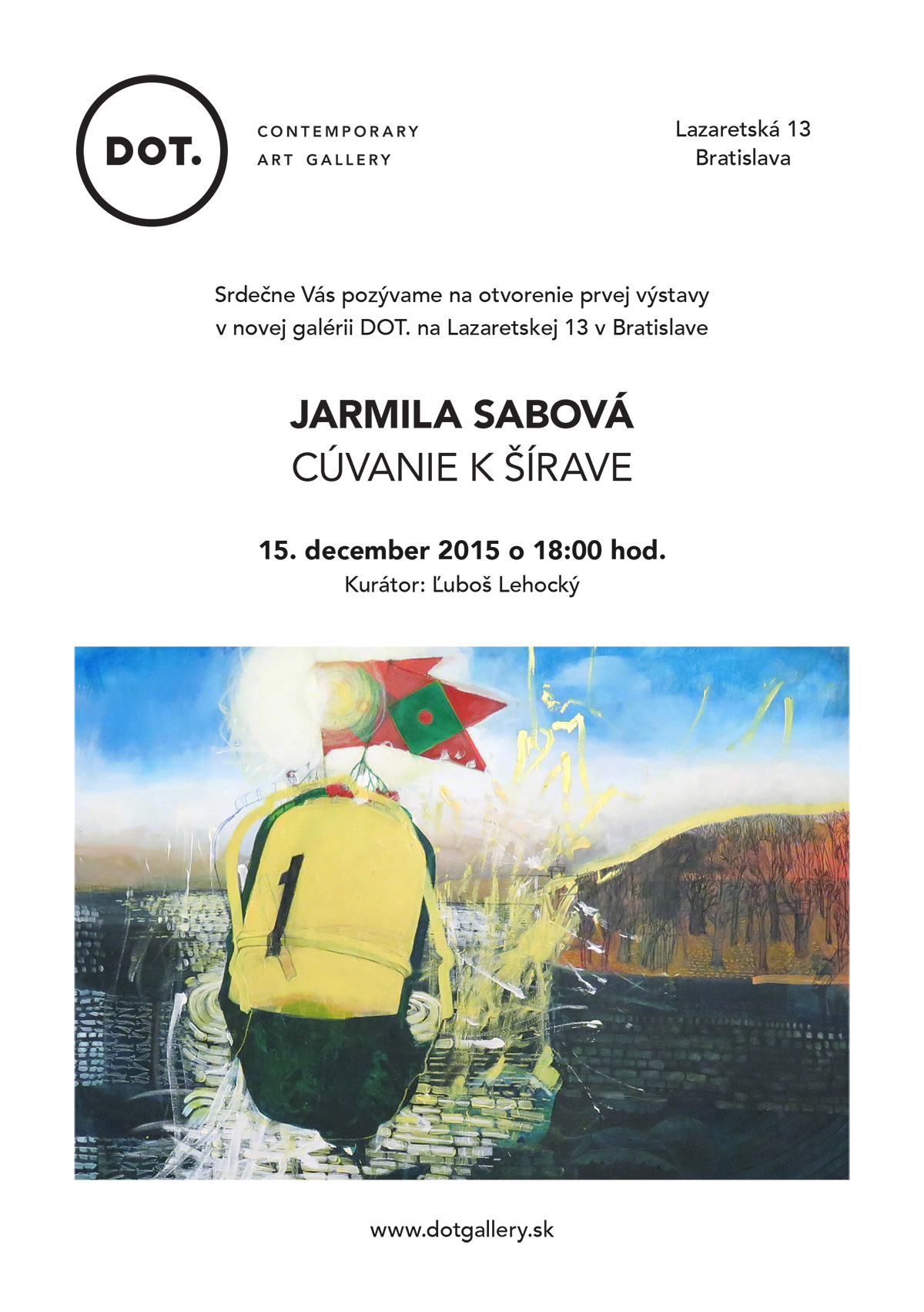 JARMILA SABOVÁ – CÚVANIE K ŠÍRAVE
Otvorenie: 15.12.2015, 18:00 hod., Lazaretská 13, Bratislava
Trvanie: 16.12.2015 – 7.2.2016
Kurátor: Ľuboš Lehocký
Názov výstavy odkazuje k autorkinmu pokusu o návrat k obdobiu júla 2010, "posledného mesiaca čohosi sústredeného", (reprezentovaného obrazom Sud dva, z cyklu Júl – mesiac malého banálneho obrazu, 2010), ktorý Jarmila Sabová strávila pri vodnej nádrži na východe Slovenska a ku ktorému sa podľa jej vlastných slov "primkýna ako k čomusi čistému, sústredenému, k čomu sa oplatí vrátiť a odtiaľ nadviazať. Preto CÚVANIE K ŠÍRAVE." 
K tomuto obdobiu sa Jarmila symbolicky vracia rôzne, napríklad aj premaľovávaním starších obrazov. O svojom diele Denný šíravový, slnko spoza vlajky (2014 – 2015) hovorí: "Pôvodne to bol zlý obraz Vila Marína na Štrbskom plese (2011). Je otočený naopak a premaľovaný na Šíravu. Všetky Šíravy sú premaľbami…" Fontána I. (2011) je síce ešte pôvodná, nepremaľovaná, Fontánu II. (2011) však už zakryla veľká žltá bójka (Fontána II. premaľovaná na sud dva, 2015) podobná tej z roku 2010, ale priblížená vo veľkom detaile.
Krajinka premaľovaná na sud tri (2014) bola pôvodne Krajina s Kyjovom (2012), ktorú autorka "popísala žltou a neskôr premaľovala na sud zo Šíravy, lebo to bolo určité riešenie. Akási úľava." S Nočným šíravovým (2015), taktiež premaľovaným, pomáhal Jarmile podobne, ako aj s niektorými inými dielami, jej syn. "Andrejko urobil celé spodné krídlo aj všelijako polámané mesačné svetlo. Pracoval po poobedňajšom spánku." 
Okrem šíravových premalieb je súčasťou výstavy aj niekoľko ďalších diel (medzi nimi napríklad Svah s myším chvostíkom, 2015), maľovaných už na čistý, ničím nezaťažený podklad. "V marci 2015 som celý mesiac pila myší chvostík a celý mesiac robila prvú krajinu, čo bola akási očistná… Aj na čistú dosku, aj s východiskami, s cestičkami, čo idú aj na skalu (tam je bývalý kameňolom, teraz školský dvor ZŠ T. J. Moussona), aj dole na bežecký ovál a odtiaľ ďalej preč… domov… Tade veľmi rada chodievam so psom, naľavo dole je aj najväčší kompost v Michalovciach. Po akýchsi frustrovaných krajinách (čo predtým som krajiny nikdy nerobila) prvá a úplná, uvoľnená. Aj sneženie je tam ako niečo tíšiace."
Tento obraz zároveň prostredníctvom motívu chrliča, vytrhnutého zo svojho bežného kontextu a funkcie, naznačuje smer, ktorým sa Jarmila uberá v inej, stále otvorenej sérii s lapidárnym názvom Chrliče.
Ako vidno z autorkiných komentárov, každý jej obraz vzniká ako reakcia na prežité a je vizualizovanou inak neprenosnou ľudskou skúsenosťou, obrazom autentického a konkrétneho zakúšania sveta a seba v ňom, reflexiou vlastnej, subjektívnej, intímnej skúsenosti so životom. Jarmilina introspektívnosť a subjektivita vo vzťahu k zažitému, teda reflexia skutočnosti nie ako je "zvonku", ale ako sa prežíva a štrukturuje v autorkinom vnútri a potom výtvarne reflektuje, pritom vôbec nie je prekážkou neskoršej recepcie diela príjemcom. Naopak, práve vďaka tomu na nás jej obrazy pôsobia akosi dôverne a dokážu rozochvievať tie oblasti nášho (pod/ne)vedomia, ktoré sú každému rovnako vlastné, a v ktorých, aj keď v každom z nás inak, rezonujú niektoré spoločné, nesmierne dôležité ľudské stavy a pocity: strádanie, dúfanie, snenie, ustrnutie, povznesenie, napätie, uvoľnenie, melanchólia, nádej. "Cestičky" z diela Svah s myším chvostíkom tak nie sú len obrazmi cestičiek "čo idú na skalu" alebo "dole na bežecký ovál" ale najmä "východiskami… domov…" a sneženie nie je len snežením, ale najmä "niečím tíšiacim". Obraz krajiny potom v Sabovej prípade nie je len obrazom kopca, lúky, lesa alebo Šíravy, ale zodpovedá aj aktuálnemu, zovšeobecnenému, alebo v perspektíve ideálna projektovanému obrazu ľudského vnútra a pnutia či chvenia v ňom. CÚVANIE K ŠÍRAVE je teda na jednej strane návratom k niektorým témam a motívom z "posledného mesiaca čohosi sústredeného" a zároveň cúvnutím, schúlením sa (ako pes na Obraze zos čuvačom, 2015) a ponorením sa z krajiny sveta do šíravy vnútra, štrukturovanej hojdajúcimi sa tichými bójkami, vymedzujúcimi bezpečný priestor, alebo označujúcimi nebezpečné miesta, cez ktoré sa nedá preplávať, iba preletieť. 
Ľuboš Lehocký
………………………………….
Jarmila Sabová (1984) sa narodila v Michalovciach a študovala na Fakulte umení Technickej univerzity v Košiciach v Ateliéri grafiky a experimentálnej tvorby pod vedením Zbyňka Prokopa a Rudolfa Sikoru. V roku 2009 bola finalistkou Ceny Oskára Čepana, a v roku 2010 získala druhé miesto v súťaži VÚB Maľba.